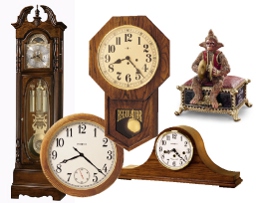 Harding's Clocks is located on Amherst Highway, nine miles north of Lynchburg, Virginia. Our shop has been nestled at the foot of the beautiful Blue Ridge Mountains since 1978. Mr. Harding started the business with a love of clocks and clock restoration. His passion has been the impetus behind Harding's Clocks' success. Although you may never walk through the doors of Harding's Clocks, you will still be treated as our guests. We thank you for visiting our web page and look forward to serving you in the future.
Ordering
If you want to get pricing and shipping information first visit our suppliers' sites, get the model number, then call us at (434) 946-7386 and talk to any of our experienced staff.
www.howardmiller.com For Howard Miller grandfather, wall and mantle clocks
www.hermleclock.com For Hermle Clocks and products
www.rhythm.us.com For Rhythm animated clocks
www.loricron.com For Loricron wall, mantle, and Anniversary clocks.

Harding's Clocks Repair
Harding's is equipped to repair or restore most brand name mechanical and most antique mechanical clocks. Howard Miller, Sligh, Seth Thomas, Ridgeway, Gilbert, Waterbury, Ingraham, Sessions, Ansonia, and most cuckoo clocks. We also restore old French mechanisms, English bell strike mechanisms, even mechanical tower clocks. We can also fit up or replace battery digital mechanisms and do antique case restoration and repair.
Harding's Clock's has a repair staff with over sixty years of experience, guided by a Certified Master Clockmaker. To take advantage of our great service and receive information about repair or for directions to our shop please call (434) 946-7386. Repair must be dropped off and picked up at our location 2265 South Amherst Hwy (for GPS directions use 199 Aubreys lane, Amherst VA.)
Musicals and Music Boxes
Harding's Clocks carries beautiful music boxes and figurines by companies like Mr. Christmas, San Francisco Music Box Company, Cottage Garden, Memory Boxes and our newest line, Heartwood Creations which are made in USA. We encourage you to come into our store to experience all the beautiful sights and sounds that make up our enchanting shop.